Motorcycle Tours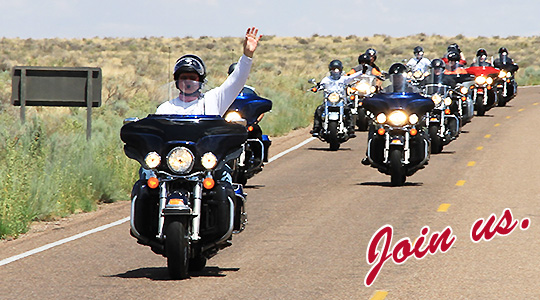 One dream trip, please! On Motorcycle Tour with Reuthers

Endless expanses lead to interesting cultural monuments and cosmopolitan cities, quaint streets lead to hidden restaurants with event character. These experiences can be found on the Reuthers Motorcycle Tours program. With much love and personal commitment, the routes were chosen, outrageous and constantly supplemented with additional highlights.
In addition to tours of the USA, where there are also routes along the infamous and legendary Route 66 and through the Sunshine State of Florida, Canada is also a goal on the Reuthers Motorcycle Tour. New Zealand, Australia and South Africa are destinations, too. The tour offers are rounded off with various routes within Europe as well as the Special Event Tours.

When which tour is coming up, can be found in the > Tours Calendar
You can find an overview of all Dream Tours in the > eCatalog

Reuthers Motorcycle Tours - The Original. Since 1997.
See what our valued clients say...
One thing all Reuthers Motorcycle Tours have in common are: the addictive character. "Once Reuthers, always Reuthers" is more than an unfounded advertising slogan, but living reality. 1997 was the magical year in which company founder Hermann Reuther started his first Route 66 Tour - today Reuthers is the official and worldwide Harley-Davidson Authorized tour operator.
Of course each Reuthers client has the choice to choose his dream machine from a variety of models - after all the Motorcycle Tour should turn into a Dream Tour for each participant.

How much tour guide and services do you need?
With Reuthers you have the option to choose between three tour options:
1) The GUIDED TOUR scores with an experienced multilingual speaking Reuthers Tour Guide, who certainly will provide you with one or the other anecdote from the Reuthers touring experience. Moreover, the price includes the rent for the motorcycle, for the overnight stays, for fuel and for entrance and park fees.
2) The SEMI GUIDED TOUR combines the comfort of a guided tour with a desire for an individual adventure. So the luggage automatically travels from hotel to hotel - and everything is pre-booked as well for you. However, you can plan your day using a Reuthers tour description and a navigation device and organize the tour on your own.
3) The NAVI GUIDED ® TOUR keeps what it promises - because you are on your own with just your sat nav and Reuthers tour description. The hotels are booked and every day you will experience the adventure of completing a further stage of the tour.
® registered trademark by REUTHER-ENTERTAINMENTS.
Of course, we also offer > Motorcycle Rentals only.

Dear valued clients!


Please check carefully before booking your motorcycle tour. Recently, more and more "wanna be tour operators" with dumping prices appear and on one side produce confusion on the market and on the other side due to lack of experience great disappointment for clients - unfortunately this is what we hear more often now in conversations. With Reuthers you have a well known and reputable company that has been organizing events since 1987 and since 1997 fulfills dreams with demanding motorcycle tours. This is what I guarantee with my good name.
Yours, Hermann Reuther

Therefore Reuthers
Reuthers is far more than a classical provider of Motorcycle Tours. Reuthers makes your dreams come true with their tour offers. Reuthers offers a comprehensive service package and a transparent pricing structure - which clients appreciate. Find more information about the "Dream Factory" Reuthers and the legendary Motorcycle Tours at the popular FAQs.

By the way, If you prefer the Basics only > KeaRider Motorcycle Bike Tours