Reuthers Harley-Davidson
Motorcycle Tours Australia
Down Under - 12 Days - Info
InfoRouteVideo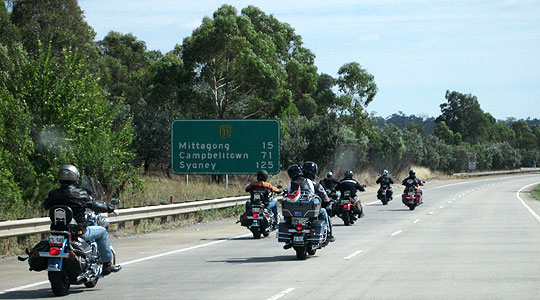 Our 12 day "Down Under" motorcycle road trip through Australia will take you through the states of Victoria and New South Wales. You will get to know the vibrant cities Melbourne and Sydney and discover special landscapes such as the Great Ocean Road on the south coast of Australia, the Murray River and the wine-growing areas of Routherglen. On the endless highways you can speed along with your Harley – don't forget in Australia there is only left-handed traffic! Other highlights on this motorcycle trip are a harbor cruise in Sydney with dinner and a ride with the steamboat on the Murray River. Finally, full of new impressions, you arrive back in Melbourne.


What's included


Best Value - NO Hidden Costs

>

Why Reuthers?
Guided Motorcycle Tour by Reuthers Tour Guide
Reuthers Navi Guided ®
(GPS Navigation Device for the Tour)
Harley-Davidson Rental Motorcycle for the Tour
including Insurance
12x Accomodation Middleclass Hotels in Double Room
Reuthers Partner Vacation Program

©


(Escort Vehicle for Companions)
Luggage Tansportation during the Tour
Reuthers Secured Payment Certificate
(Sicherungsschein)
Reuthers Tour Book with Itineraries and Tips
Reuthers Travel Lecture Australia
Reuthers Welcome Drink
Welcome Dinner in Restaurant
Farewell Dinner in Restaurant
Sydney Harbour Cruise with Dinner
Boatstour Emmylou
Fuel for the Tour
Transfers Airport > Hotel > Rental Station > Hotel > Airport
Entrance and Parking Fees
Reuthers Tours & More Discount Points
Pricing in AUD


Different currency

>

Currency Converter
Rider Harley-Davidson Rental Motorcycle
7545
6733
5456
Rider own Motorcycle (Reuthers BYOM

©

)
5950
2645
Passenger Motorcycle
3020
2645
1119
Passenger Escort Vehicle
3120
Single Room extra charge

931
931
931
Twin Room extra charge

150
150
150

All pricing payable in Australian Dollar.
3% Early Bird Discount* for bookings more than 6 months prior tour start
2% Senior Discount* age min 62 years prior tour start
2% H.O.G. Discount* for Harley Owners Group members
10% Group Discount* (from 6 Riders)
*Discounts apply for bank payment only. Discounts max. 10%.
Dates
5.Nov.-16.Nov.2013
3.Dec.-14.Dec.2013
7.Jan.-18.Jan.2014
4.Feb.-15.Feb.2014
4.Mar.-15.Mar.2014
4.Nov.-15.Nov.2014
2.Dec.-13.Dec.2014


Individual Guided and Semi Guided Tour dates for groups from 6 Riders.

Please feel free to tell us your individual date!