Motorcycle Tours
Route 66 Dream USA
Reuthers Harley-Davidson
InfoRoute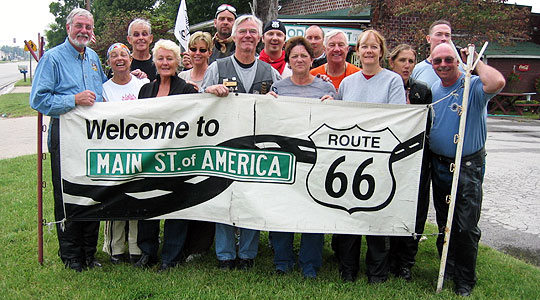 A real dream tour is our 15-day Route 66 Motorcycle Tour "Dream", you will get to know several states in detail along the route. Discover the dream of great freedom on the endless straight highways of the American west on the seat of a Harley-Davidson. Visit fascinating natural wonders like the Grand Canyon, Monument Valley with its bizarre rock formations, and the Petrified Forest. During the Route 66 motorcycle tour, cozy biker bars and owner-managed restaurants with delicious American specialties await you. Get to know the culture of the Native Americans for one night at a Navajo reservation, and try your luck at one of the casinos in the glittering metropolis of Las Vegas. The Reuthers Route 66 Harley-Davidson Motorcycle Tours leave nothing to be desired.
...get your kicks on Route 66 - with Reuthers always from east to west = the historical direction!


What's included


Best Value - NO Hidden Costs

>

Why Reuthers?
The Original Tour - developed and organised by Reuthers
Reuthers Tour Guide - trained and multilingual
Reuthers Navi Guided ®
(GPS Navigation Device for the Tour)
Harley-Davidson Rental Motorcycle for the Tour
including comprehensive Insurance
15x Accommodation Middleclass Hotels/Motels in Double Room
Grand Canyon Helicopter Flight
Reuthers Partner Vacation Program

©


(Escort Vehicle for Companions)
Luggage Tansportation during the Tour
Reuthers Secured Payment Certificate
(Sicherungsschein)
Reuthers Tour Book with Itineraries and Tips
Reuthers Travel Lecture USA / Route 66
Reuthers Welcome Drink
Welcome Dinner in Restaurant
Farewell Dinner in Restaurant
Fuel for the Tour
Transfers Airport > Hotel > Rental Station > Hotel > Airport
Entrance and Parking Fees
Reuthers Rewards - Tours & More Points
Optional Bookings
Harley-Davidson Museum to Milwaukee
(Guided Van Travel on Day 1)
Grand Canyon Helicopter Flight
Pricing in USD = US DOLLAR


>

Convert into your currency
Rider Harley-Davidson Rental Motorcycle
7675
6865
5235
Rider own Motorcycle (Reuthers BYOM

©

)
5135
Passenger Motorcycle
3795
3455
1565
Passenger Escort Vehicle
3895
Single Room extra charge

1365
1365
1365
Twin Room extra charge

195
195
195

All pricing payable in US Dollar.
3% Early Bird Discount* for bookings more than 6 months prior tour start
2% Senior Discount* age min 62 years prior tour start
10% Group Discount* (from 6 Riders)
*Discounts apply for bank payment only. Discounts max. 10%.

Important note about > Pricing

Please select from the designated > Harley-Davidson touring models or a wide range of different > motorcycle models.

You prefer basic services only > KeaRider Motorcycle Bike Tours
Dates

Ask for current




Discount Date/s !

5.May.-19.May.2015
9.Jun.-23.Jun.2015
14.Jul.-28.Jul.2015
4.Aug.-18.Aug.2015
1.Sep.-15.Sep.2015
3.May.-17.May.2016
7.Jun.-21.Jun.2016
12.Jul.-26.Jul.2016
2.Aug.-16.Aug.2016
30.Aug.-13.Sep.2016


Of course we also realise individual dates for VIPs, private and group tours.

Please feel free to tell us your individual date!