Motorcycle Tours New Zealand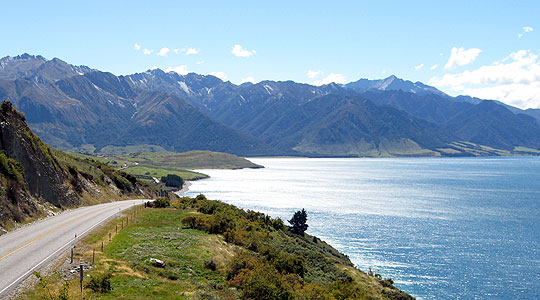 New Zealand – Paradise for Motorcyclists

Heavenly conditions for motorcyclists await you in far away New Zealand: Endless highways that run through the most beautiful regions of the world, a pleasant climate and varied landscapes of sunny beaches to snow-capped mountain ranges. Discover New Zealand and be enchanted by this beautiful country at the other side of the world with Reuthers Motorcycle Tours.
We offer several motorcycle tours of different lengths in New Zealand - just as you wish. Our Paradise Ttour takes you in 19 days over both islands of New Zealand and you will get to know both of them in detail. Starting in the largest city of New Zealand in Auckland which is located in the north of the country, the roadtrip first goes to the Bay of Islands and the Cape Reinga, the northernmost point of New Zealand. In this picturesque area, you can cruise along on your motorbike and get used to the left-handed traffic.
After four days in the Northlands, you will return to Auckland, before you head south on your Harley along the Pacific Coast Highway. In the following days you will learn about the ancient traditions of the Maori of New Zealand and come across the country's national bird, the Kiwi. Visit Lake Taupo, the largest lake in the country and the unhurried capital Wellington, before you cross over with your bike to the south island.
Waiting for you in the deep south of New Zealand are unique nature spectacles between glaciers and deep blue lakes surrounding Mount Cook the highest mountain in New Zealand with a height of 3754m. The highlight of every motorcycle trip in New Zealand is a visit to the magnificent Milford Sound, where you will go on a boat cruise and see dolphins, sea lions and penguins. The motorcycle tour through New Zealand then ends in Christchurch with an option of 3 additional days back to Auckland.
Our Highlight:


Discover the unique beauty of New Zealand with our Paradise-Roundtrip. Booking also available for passengers in our escort vehicle.
Dates/Prices

>

Paradise
For people who have less time, we offer our 15 day New Zealand tour Highlights, as well as the 12 day tour Discover. In addition, our Southern tour offers the opportunity to go on a motorcycle tour on the South Island in 11 days. All trips are also available for partners who want to travel in the escort vehicle.