Bus Tours
New Zealand
Southern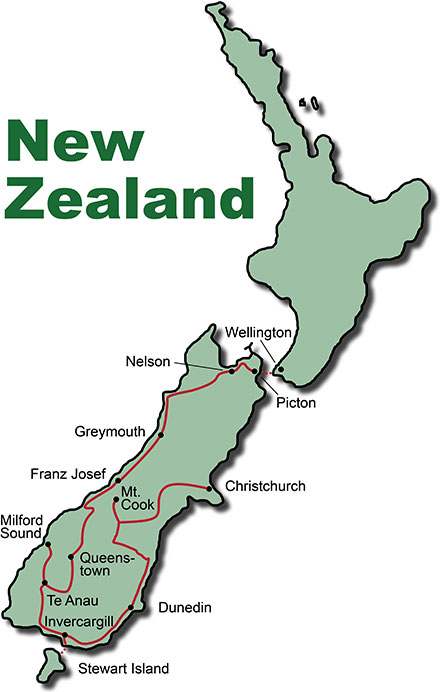 Saturday, Day 1
Wellington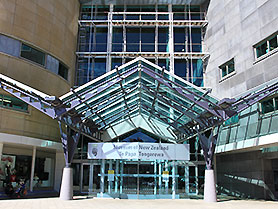 Kia Ora to Wellington, the capital of New Zealand. Be our guest at our traditional Welcome Drink and Dinner. Getting to know each other is top of the list and your tour guide will give you further information on your upcoming New Zealand bus tour adventure.

Sunday, Day 2
Wellington > Nelson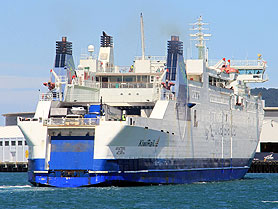 Before we leave the northern island to head south, we will visit New Zealand's National Museum Te Papa. In the early afternoon we will then take the Interislander ferry for the short transfer to Picton. From Picton we will travel along Tasman Bay directly to Nelson, New Zealand's first city ever. By the way the area around Nelson has the highest amount of sunshine hours in New Zealand and will give you lots of photo opportunities.

Monday, Day 3
Nelson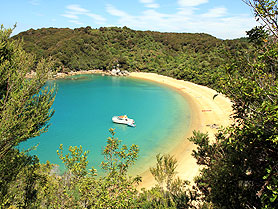 As a day tour, we will today undertake an excursion to the Abel Tasman National Park where we will be dropped off per water taxi at the beach and after a walk in the free wilderness simply be picked up again.

Tuesday, Day 4
Nelson > Greymouth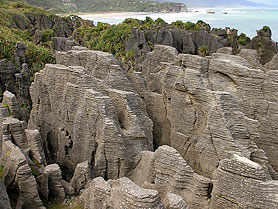 Our bus tour adventure leads us southwest along the famous Buller Gorge Road to Cape Foulwind and south to the Pancake Rocks. Here we will get a close up view of the blowholes with the spraying seawater. We will spend the night in the coastal city Greymouth, once an important Maori settlement.

Wednesday, Day 5
Greymouth > Franz Josef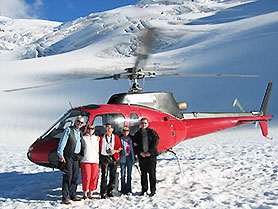 We will visit a Jade Factory for souvenirs, pass the old gold mining town Ross and enjoy the all uniting landscape with imposing mountains, green rain forest and the Tasman Sea to the right. In Franz Josef we will set up our sleeping quarters below the Franz Josef Glacier. Depending on the weather, there is the possibility for a helicopter flight with a landing on the famous glacier or weather independent to take a breathtaking quad tour in the rain forest.

Thursday, Day 6
Franz Josef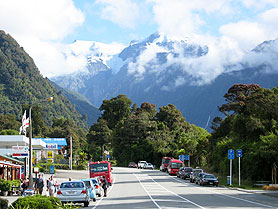 Explore the Franz Josef Glacier on your own and take an optional hiking tour - this day is at your own disposal.

Friday, Day 7
Franz Josef > Queenstown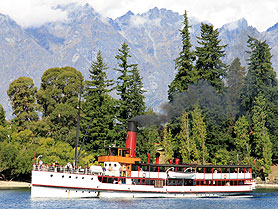 Passing the Fox Glacier we will leave the Tasman Sea, cross the Haast Pass and reach Wanaka. A lonely mountain road leads us to the most exciting city of New Zealand, to Queenstown. After a breathtaking passage on the Lake Wakatipu we will have dinner in the Colonel's Homestead restaurant of the Walter Peak High Country Sheep farm and with a farm tour get a picture of the work on a New Zealand farm. The TSS Earnslaw, the oldest coal fueled steam ship of New Zealand, brings us afterwards back again to Queenstown.

Saturday, Day 8
Queenstown
There is action and sights to see: Starting with the popular bungee jumping off the historic Kawarau Bridge, up to para sailing and jet boat riding. Of course you can also spend your time with an abundant shopping tour in Queenstown or just relax - this day is at your own disposal.

Sunday, Day 9
Queenstown > Te Anau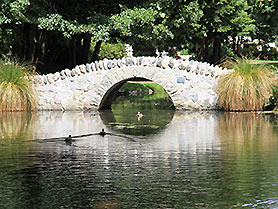 Your bus tour continues on by spending the morning in lovely Queenstown and heading to Te Anau in the early afternoon.

Monday, Day 10
Te Anau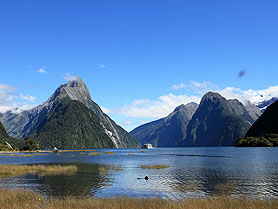 Today a world wonder is on the program, one of the most famous symbols of New Zealand: the Milford Sound in the rain-laden zone of New Zealand. Here we will take a cruise on the 16 kilometer long fjord to the Tasman Sea and at the same time take amazing photographs from penguins, sea lions, dolphins, sometimes even whales, as well as the most spectacular waterfalls in New Zealand.

Tuesday, Day 11
Te Anau > Invercargill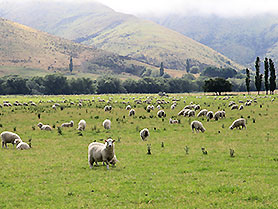 Later in the morning we will continue our adventure to Invercargill, the southernmost city of New Zealand and the heart of the Southland.

Wednesday, Day 12
Invercargill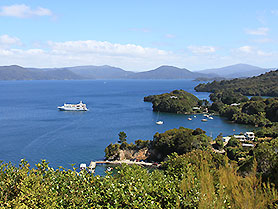 Our day trip leads us to Stewart Island in the far south of New Zealand. Here we can observe in untouched nature i.e. rare bird species and take a boats tour for a spectacular underwater world.

Thursday, Day 13
Invercargill > Dunedin
Surely most of you have heard of the cult film 'The World's Fastest Indian' with Anthony Hopkins. We will have a close up view of Burt Monro's original motorcycle today. Afterwards we head through the Catlins on to Dunedin. Several photo stops like the famous Nugget Point Lighthouse are on our way.

Friday, Day 14
Dunedin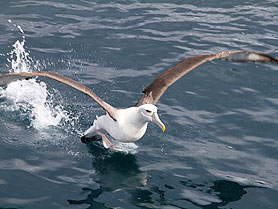 Dunedin's Royal Albatross Colony in the Otago Peninsula will be today's highlight with onsite albatross and penguin viewing as well as a historical tour of Tairoa Head.

Saturday, Day 15
Dunedin > Mount Cook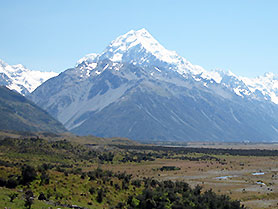 Our destination for today is Mount Cook, more than 3800 meters high and the highest mountain in New Zealand. We will take a hiking tour and, if possible, stay the night at the legendary Hermitage Hotel below the mountain.

Sunday, Day 16
Mount Cook > Christchurch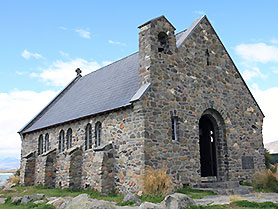 On our last day the inland route leads us to the 'Church of the Good Shepherd' located on the shores of Lake Tekapo. The church is arguably one of the most photographed in New Zealand, and features an altar window that frames stunning views of the lake and mountains. After this spectacular highlight, we head toward Christchurch for our traditional Farewell Dinner in which we can recap the adventures of our bus tour through New Zealand.

New Zealand Southern Bus Tour - what's included:
* Guided Adventure Tour by Reuthers Tour Guide
* Travelling in comfortable Van / Mini Bus
* 16x Accommodation Middleclass Hotels in shared Double Room (1 common bed)
* Standard WiFi at Hotels
* Reuthers Secured Payment Certificate (Sicherungsschein)
* Reuthers Tour Book with Itineraries and Tips
* Reuthers Travel Lecture New Zealand
* Reuthers Welcome Drink
* Welcome- and Farewell-Dinner in Restaurants
* Dinner Walter Peak High Country Sheep Farm
* Milford Sound Cruise
* Steamship Passage TSS Earnslaw
* Boats Tour Stewart Island Underwater World
* Ferry Wellington > Picton
* Ferry Stewart Island
* Water Taxi Abel Tasman National Park
* Transfers Airport-Hotel-Airport
* Entrance Fees
* Reuthers Rewards
Pricing:
Per Person = NZD 4335
Single Room extra charge = NZD 1618
Twin Room (2 separate beds) extra charge = NZD 218
All pricing payable in New Zealand Dollar.
3% "Early Bird Discount" (booking more than 12 months prior tour start)
2% "Golden Ager Discount" (age min 60 years prior tour start)
10% "Group Discount" (from 8 participants, all registrations within one week, common Payment of Balance by Bank Transfer)
Please note: Total Discount max. 10% for Deposit by Credit Card and Payment of Balance by Bank Transfer. No Discount for Deposit and Payment of Balance by Credit Card or by PayPal.
Dates:
11.Feb.-26.Feb.2017
18.Mar.-2.Apr.2017
22.Apr.-7.May.2017
25.Nov.-10.Dec.2017
10.Feb.-25.Feb.2018
17.Mar.-1.Apr.2018
21.Apr.-6.May.2018
24.Nov.-9.Dec.2018
Of course we also realise individual dates for VIPs, private and group tours.