Rental Car Tour
Down Under
Australia

Melbourne, Sydney, Canberra and more highlights in Down Under
On this round trip through Australia you will get to know the highlights of the south eastern part of the country in 12 days. Your round trip through Australia starts in the metropolis Melbourne the Sunshine City in the state of Victoria. Here you will pick up your rental car and head towards the Great Ocean Road, the natural wonder of the south coast with its unique rock formations such as the Twelve Apostles and the London Bridge. With some luck you might even be able to do some whale watching from the coast. After overnight stays in Port Campbell und Portland, your tour leads you into the inland to the old gold mining city Ballarat, where the reconstructed village Sovereign gives you a picture of how it was in the 19th century. The next stop on your round trip through Australia is the Murray River, the longest river of the country. In Echuca, you will take a boat trip with an old paddle steamer before you continue on to the vineyards of Routherglen. An overnight stay is in Albury. Through the modern capital Canberra where you can visit the Australian government quarter, you will finally reach Australia's largest and most beautiful city Sydney, the highlight of every rental car round trip. Experience a special dinner during a harbor cruise on board the Captain Cook, visit a show in the famous opera house or simply relax at one of the famous beaches of Sydney. After two nights in Sydney your round trip takes you back again to Melbourne. This time you will drive along the beautiful coastal road, through the Bedarah State Forest to Bateman's Bay and Lakes Entrance. Finally you will return to Melbourne where you will return your rental car and fly back home or extend your vacation stay.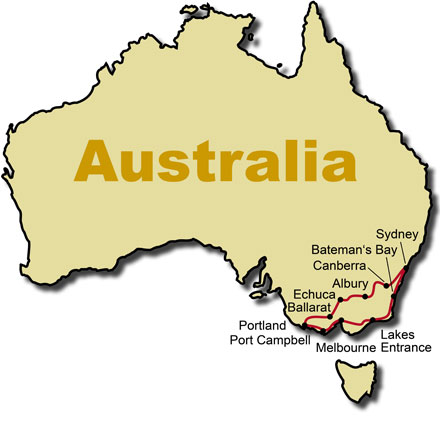 The Route:
Day 1: Melbourne > Port Campbell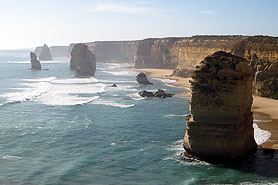 Your rental car tour starts on the famous Great Ocean Road in Melbourne. In addition to the coastal road, which was built by soldiers remembering their their fallen comrades, the Twelve Apostles are a highlight of the day.
Day 2: Port Campbell > Portland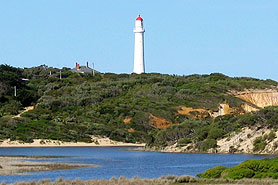 You will spend a big chunk of your day on Great Ocean Road once again. At Logan Beach, breathtaking whales appear to be within reach.
Day 3: Portland > Ballarat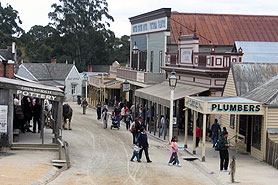 With your rental car, you will finally start exploring the heart of Australia. In the afternoon, you arrive at Sovereign Hill. In this suburb, time seems to almost stand still. You can even dig for gold here.
Day 4: Ballarat > Echuca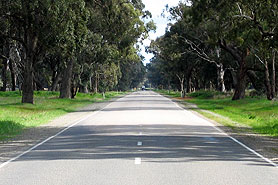 On your drive from Ballarat to Echuca, you get a feel for the continent of Australia - with its endless expanses, beautiful roads and dreamlike landscapes.
Day 5: Echuca > Albury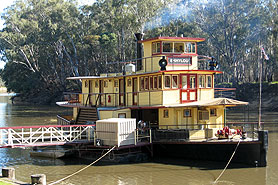 The historic port of Echuca will delight you. The paddle steamer Emmylou will make for an unforgettable and nostalgic experience.
Day 6: Albury > Canberra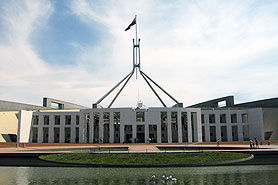 Today, you are off to the capital of Australia, which is neither Melbourne nor Sydney. Rather, you will be taking your rental car right to Canberra where you can browse the Australian government district at your leisure.
Day 7: Canberra > Sydney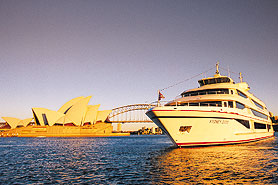 Head towards Sydney, where a beautiful harbor cruise with many sparkling lights is waiting for you in the evening. The dinner on the Captain Cook thus becomes a true feast for your senses.
Day 8: Sydney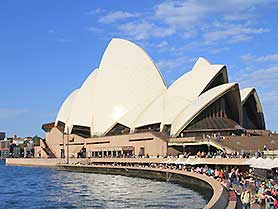 This day belongs to the city of Sydney. Ditch your rental car and explore the opera district by foot. An Opera House tour is of course a must.
Day 9: Sydney > Bateman's Bay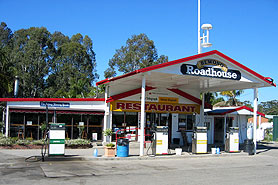 Today, you can look forward to a winding coastal road and the Princess Highway 1, which will take you to Bateman's Bay. Definitely stop by the Bewong Roadhouse, a truck stop, in order to see a different side of Australia.
Day 10: Bateman's Bay > Lakes Entrance
The marina in Bateman's Bay will enchant you in the morning. But your final destination for the day is Lakes Entrance, where you can enjoy a sumptuous dinner in the harbor district.
Day 11: Lakes Entrance > Melbourne
Via the Princess Freeway, you will quickly reach Melbourne on the last day of your trip. From casinos to a gigantic shopping center, Melbourne offers many great attractions on your last day.
Learn more about this dream tour:
Individual Adventure > Self Drive Tour
What's included:
* The Original Tour - developed and organised by Reuthers
* Rental Car - compact class - for the Tour including comprehensive Insurance
* 11x Accommodation Middleclass Hotels/Motels in shared Double Room (1 common bed)
* Reuthers Secured Payment Certificate (Sicherungsschein)
* Reuthers Tour Book with Itineraries and Tips
* Reuthers Travel Lecture Australia
* Reuthers Rewards Points
Optional Bookings:
* GPS navigation device for Rental Car
* Higher class for Rental Car
* Individual flight
Date/s:
Please feel free to tell us your individual date!
Pricing:
Driver Rental Car = AUD 2495
Passenger = AUD 1675
Single Room extra charge = AUD 805
Twin Room (2 getrennte Betten) extra charge = AUD 135
> Convert into your currency
All pricing payable in Australia Dollar.
3% "Early Bird Discount" (booking more than 12 months prior tour start)
2% "Golden Ager Discount" (age min 60 years prior tour start)
10% "Group Discount" (from 8 participants, all registrations within one week, common Payment of Balance by Bank Transfer)
Please note: Total Discount max. 10% for Deposit by Credit Card and Payment of Balance by Bank Transfer. No Discount for Deposit and Payment of Balance by Credit Card or by PayPal.