Rental Car Tour
Florida Sunshine
USA / America

More than just Palms and Beaches: Florida
On this rental car round trip you will discover the most southeastern state of the USA in all its sunny facets: After arriving in Miami, you will pick up your rental car and immediately head for a trip to the famous Everglades National Park on the west coast where you will spend the night in the seaside resort Naples. Through Fort Myers, your Florida round trip takes you along the west coast to the north and offers many possibilities to take a short stop to go swimming at the snowy-white beaches on the Gulf of Mexico. Just before the next overnight stop you have the possibility to visit the famous mermaid show Weeki Wachee. In Ocala you will visit one of the well known race horse studs in Florida before you reach Saint Augustine, the most northern point of your round trip and at the same time the oldest settlement of Florida. From here you will travel along the east coast back south and arrive at the legendary motor sports town Daytona Beach with its beautiful boardwalk where you will spend the night with view of the Atlantic. The next morning, you visit the Kennedy Space Center in Cape Canaveral, before you continue on to Palm Beach, the elegant place of residence of the rich and beautiful on the east coast of Florida. Use the opportunity to go shopping in Fort Lauderdale before you continue on to Miami, where you can see the Art Deco District in Miami Beach and can relax at the beach before the last stage of the trip begins: The tropical island chain of the Florida Keys. After spending the night in Key Largo, you will drive over one of the most beautiful highways in the world to Key West, the most southern point of the USA where you can enjoy Caribbean flair enjoy and stay the night. After a stopover at the Dolphin Research Center, you return to Miami where you drop off the rented car and fly back home or enjoy a few extra days at the beach.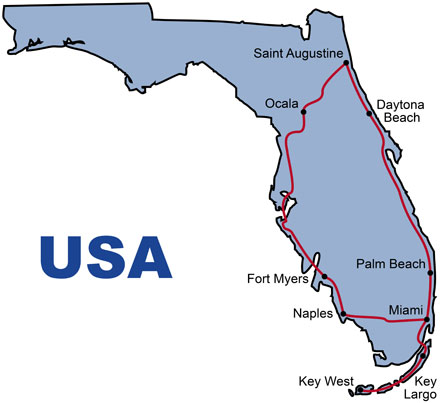 The Route:
Day 1: Miami > Naples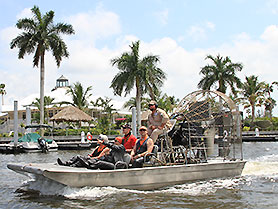 Today is the first day of your rental car tour through the Sunshine State. You can pick up your rental car in Miami and continue on towards the Everglades, where an unforgettable airboat tour makes for a spectacular holiday experience.
Day 2: Naples > Fort Myers
Sanibel Island is the highlight of the day. This is where you can collect some really unique shells. Fort Myers also awaits, where you can discover the former home of Edison.
Day 3: Fort Myers > Ocala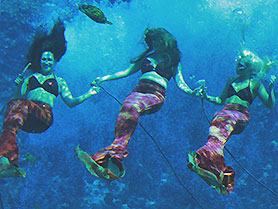 Definitely make a stop in Weeki Wachee so you that you do not miss out on the dancing mermaids under any circumstances. This show is famous beyond the borders of Florida.
Day 4: Ocala > Saint Augustine
In Ocala, the horse capital of the United States is waiting for you. Become a horse whisperer yourself or enjoy a delicious BBQ. In Saint Augustine, you will find one of the oldest European settlements that Florida has to offer.
Day 5: Saint Augustine > Daytona Beach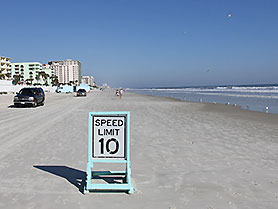 Take a city tour to get to know the cute town of Saint Augustine even better. In addition, you can steer your rental car towards famous Daytona Beach today, too.
Day 6: Daytona Beach > Palm Beach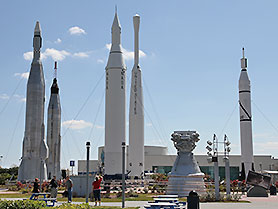 You will be headed for Palm Beach next. On your journey by rental car, the JFK Space Center, which even has its own IMAX cinema, is a must see.
Day 7: Palm Beach > Miami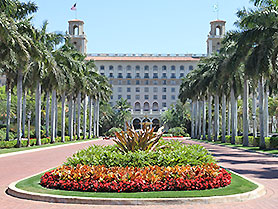 After enjoying the charm of Palm Beach, shopping in Fort Lauderdale is next, where numerous outlet shops are just waiting for your visit.
Day 8: Miami > Key Largo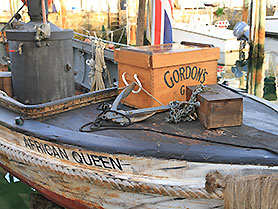 Make sure to explore the famous Keys. However, you should pay a visit to Miami's Little Havana first.
Day 9: Key Largo > Key West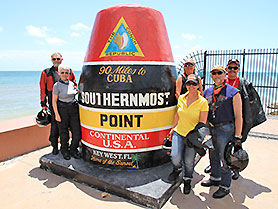 Numerous bridges will take you and your rental car from one key to the next. Definitely plan for a stop at the southernmost point of the United States. From there, it is just 90 miles to Cuba.
Day 10: Key West > Miami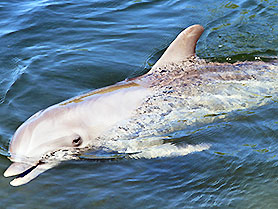 The visit to the Dolphin Research Center will make the last day of your exciting trip just as memorable. Indulge in Miami by having dinner at a typical American diner.
Learn more about this dream tour:
Individual Adventure > Self Drive Tour
What's included:
* The Original Tour - developed and organised by Reuthers
* Rental Car - compact class - for the Tour including comprehensive Insurance
* 10x Accommodation Middleclass Hotels/Motels in shared Double Room (1 common bed)
* Reuthers Secured Payment Certificate (Sicherungsschein)
* Reuthers Tour Book with Itineraries and Tips
* Reuthers Travel Lecture Florida
* Reuthers Rewards Points
Optional Bookings:
* GPS navigation device for Rental Car
* Higher class for Rental Car
* Individual flight
Date/s:
Please feel free to tell us your individual date!
Pricing:
Driver Rental Car = USD 2164
Passenger = USD 1284
Single Room extra charge = USD 851
Twin Room (2 getrennte Betten) extra charge = USD 122
> Convert into your currency
All pricing payable in US Dollar.
3% "Early Bird Discount" (booking more than 12 months prior tour start)
2% "Golden Ager Discount" (age min 60 years prior tour start)
10% "Group Discount" (from 8 participants, all registrations within one week, common Payment of Balance by Bank Transfer)
Please note: Total Discount max. 10% for Deposit by Credit Card and Payment of Balance by Bank Transfer. No Discount for Deposit and Payment of Balance by Credit Card or by PayPal.