Rental Car Tour
Wild Garden
South Africa

Are you looking forward to seeing the Big Five?
On our 11 day rental car round trip "Wild Garden" through South Africa you will get to know the fascinating landscape of the most southern country in Africa in detail and come into close contact with African animal world. Your round trip through South Africa begins in the metropolis Cape Town which you can discover on your own after your arrival, before you pick up your rental car. You will then head for the Cape of Good Hope and a short detour to the vineyard Groot Constantia. After a further overnight stay in Cape Town, you will drive along the coast to the Cape Agulhas, the most southern point of the African continent. With some luck you might even be able to do some whale watching from the coast. Your round trip through South Africa leads you next into the historic Swellendam and to the Bartolomeu Dias Ship Museum before you reach the Knysa Elephant Park in the evening. You will spend the entire next day in this park, that keeps not only elephants but also many other African animals. Following the Garden Route you head to Port Elizabeth, the beautiful city on the south coast of the country. With the Addo Elephant National Park a further highlight on your South Africa round trip is on the program before you head with a large curve back again to the west. Yet further highlights await you, such as a visit to the Safari Ostrich Farm in Oudtshoorn where you have opportunity to ride on an ostrich. Over hilly mountain passes and green valley's your round trip continues on to the city Franschhoek with its many French gourmet restaurants and to Stellenbosch, world-famous for its delicious cape wines. On day 11 your rental car round trip through South Africa comes to an end in Cape Town with the return of your rental car. You can extend your stay or head back home.
The Route:
Day 1: Cape Town
In Cape Town, you start by picking up your rental car, before your trip can begin. Groot Constantia is the oldest winery of South Africa that is located nearby. You can also explore the Cape of Good Hope with your rental car.
Day 2: Cape Town > Arniston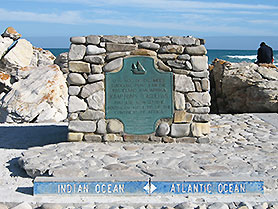 On the drive to Arniston, you might be able to observe whales depending on your luck and the current season. Continue to the southernmost point in Africa, where the Indian and Atlantic Ocean meet.
Day 3: Arniston > Knysna
Today, a real storybook city is waiting for you. The charm of Swellendam will win you over. You will be taking your rental car along the Garden Route to Knysna.
Day 4: Knysna > Plettenberg Bay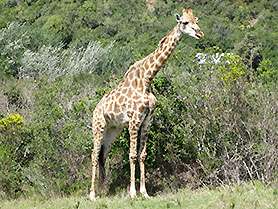 Real wildlife is what you will find at Knysna Elephant Park. Now, you have truly arrived in the middle of Africa.
Day 5: Plettenberg Bay > Port Elizabeth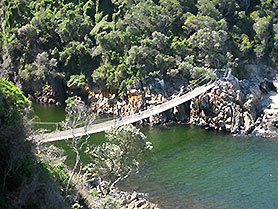 After cruising through the African bush, you should make a stop at Tsitsikamma National Park before arriving in Port Elizabeth in the late afternoon or early evening.
Day 6: Port Elizabeth > Graaff-Reinet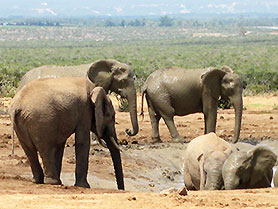 Early in the morning, Addo Elephant National Park will leave you speechless. There, you will not only encounter giraffes, but kudu, elephants, zebras, lions and rhinos as well.
Day 7: Graaff-Reinet > Oudtshoorn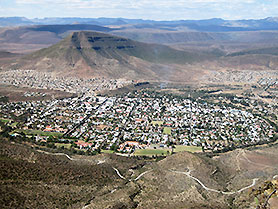 The Valley of Desolation offers a completely different type of natural spectacle. You will spend the next two nights in Oudtshoorn, the ostrich capital of the world.
Day 8: Oudtshoorn
Have you been dreaming of riding an ostrich? You are now given the unique opportunity to do so. The Safari Ostrich Farm makes for a thoroughly eventful day.
Day 9: Oudtshoorn > Montagu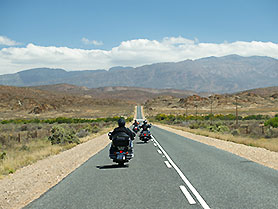 Today, you will be covering plenty of miles with your rental car. The R62 is something like Route 66 of South Africa.
Day 10: Montagu > Stellenbosch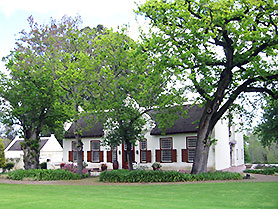 A French city located in South Africa? Franschhoek offers just that. Many fine restaurants invite you for a feast. The day ends in Stellenbosch, where the second oldest winery in South Africa is located.
Day 11: Stellenbosch > Cape Town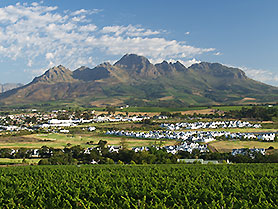 The last day of your trip has begun. Take your rental car back to Cape Town and enjoy the breathtaking landscapes of South Africa. Perhaps, you will want to visit Table Mountain or treat yourself to a fine dining experience at the V + A Waterfront.
Learn more about this dream tour:
Individual Adventure > Self Drive Tour
What's included:
* The Original Tour - developed and organised by Reuthers
* Rental Car - compact class - for the Tour including comprehensive Insurance
* 11x Accommodation Middleclass Hotels/Lodges in shared Double Room (1 common bed)
* Reuthers Secured Payment Certificate (Sicherungsschein)
* Reuthers Tour Book with Itineraries and Tips
* Reuthers Travel Lecture South Africa
* Reuthers Rewards Points
Optional Bookings:
* GPS navigation device for Rental Car
* Higher class for Rental Car
* Individual flight
Date/s:
Please feel free to tell us your individual date!
Pricing:
Driver Rental Car = ZAR 28635
Passenger = ZAR 17275
Single Room extra charge = ZAR 9935
Twin Room (2 getrennte Betten) extra charge = ZAR 1345
> Convert into your currency
All pricing payable in South Africa Rand.
3% "Early Bird Discount" (booking more than 12 months prior tour start)
2% "Golden Ager Discount" (age min 60 years prior tour start)
10% "Group Discount" (from 8 participants, all registrations within one week, common Payment of Balance by Bank Transfer)
Please note: Total Discount max. 10% for Deposit by Credit Card and Payment of Balance by Bank Transfer. No Discount for Deposit and Payment of Balance by Credit Card or by PayPal.