New Zealand
Bicycle Tours
Paradise - 26 Days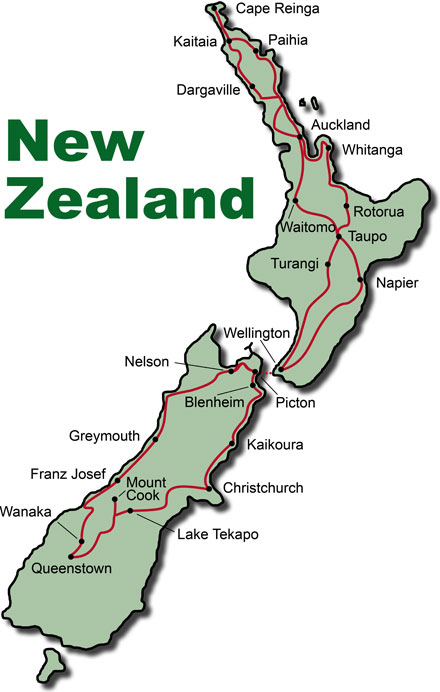 Route:
Auckland - Paihia - Kaitaia - Dargaville - Auckland -
Whitianga - Rotorua - Napier - Wellington - Nelson -
Greymouth - Franz Josef - Wanaka - Queenstown -
Lake Tekapo - Christchurch - Kaikoura - Blenheim -
Wellington - Turangi - Waitomo - Auckland



Wednesday, Day 1
Kia Ora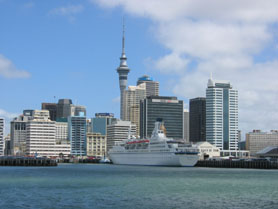 We start our trip in Auckland, the 'City of Sails'. Meet your fellow travellers and be our guest at our Welcome Dinner.

Thursday, Day 2
Auckland - Paihia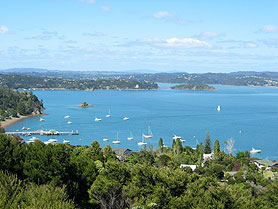 After breakfast and the daily briefing we start on our 3-day trip to Northland, heading first toward Whangarei, and then on to Paihia in the famous Bay of Islands.

Friday, Day 3
Paihia - Kaitaia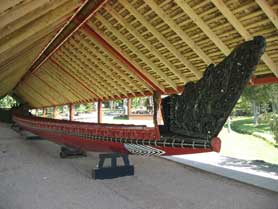 We spend the day in the Bay of Islands, visiting the historic Waitangi Treaty Grounds, the birthplace of New Zealand. We then move on to spend the night at Kaitaia, ready for an early start the next morning.

Saturday, Day 4
Kaitaia - Dargaville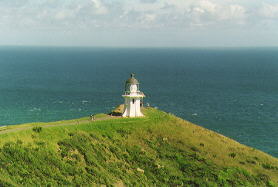 Day 4 starts early to the most northwestern tip of New Zealand - Cape Reinga - where the souls of recently departed Maori are said to leave the mainland on their journey to the afterlife in the spiritual homeland Hawaiki. We spend some time here at the lonely lighthouse before taking the Twin Coast Discovery Highway south.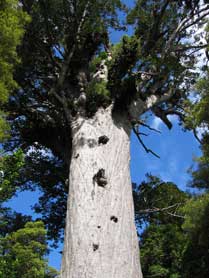 At Kohukohu we take the small ferry to Rawene before travelling through the Waipoua Forest, an ancient Kauri forest. We stop to visit Tane Mahuta, the 'Lord of the Forest'. At around 2000 years old and 51 m (169 feet) tall, Tane Mahuta is New Zealand's largest living Kauri tree. We stop in Dargaville for the night.

Sunday, Day 5
Dargaville - Auckland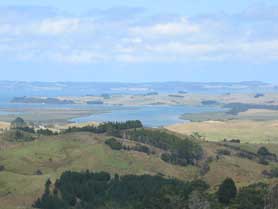 We carry on down the Twin Coast Discovery Highway, reaching Auckland in the afternoon. We spend the rest of the day here.

Monday, Day 6
Auckland - Whitianga
This is a relaxing day on the Pacific Coast Highway around the Coromandel region. We spend the night in Whitianga.

Tuesday, Day 7
Whitianga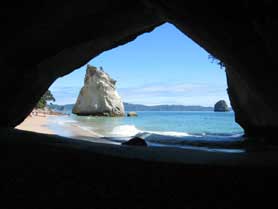 We are doing a round trip, stopping at Hot Water Beach and Cathedral Cove. Well worth the 40-minute strenuous walk to reach it, this is a natural rock cave located in one of New Zealand's beautiful marine reserves.

Wednesday, Day 8
Whitianga - Rotorua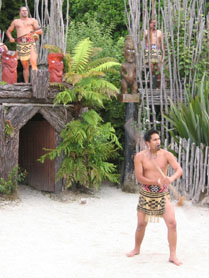 We continue to Rotorua. Before we even reach the city you will be able to smell the sulfur and see hot pools along the side of the road. In the evening you will have the opportunity to learn about Maori culture and attend a spectacular Maori show in the Tamaki Maori Village. This is followed by a traditional Maori feast.

Thursday, Day 9
Rotorua - Napier
We spend the morning in Rotorua visiting the hot pools and geysers at Te Puia. You will also have the chance to visit a bird house and see a kiwi.
Our destination is Napier, which was almost entirely rebuilt in the Art Deco style after the 1931 earthquake. You will be able to visit museums, art galleries, and a kiwi house if you wish. We spend the night in an original Art Deco hotel near the beach.

Friday, Day 10
Napier - Wellington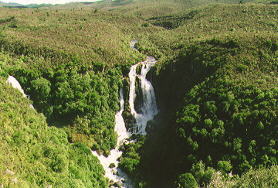 We continue our journey to Wellington, the capital of New Zealand, passing through more spectacular scenery.

Saturday, Day 11
Wellington - Nelson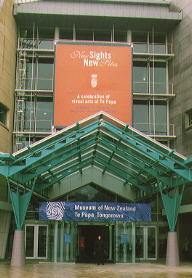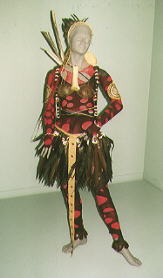 Before we leave the North Island we visit Te Papa, the national museum of New Zealand. In the afternoon we leave for the South Island, travelling to Picton on the Interislander ferry.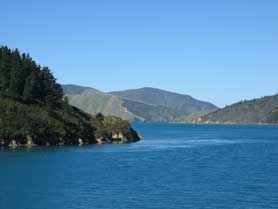 There is plenty of opportunity to take pictures on the journey, especially as we pass through the beautiful Marlborough Sounds. Once on the South Island we travel around the Tasman Bay to Nelson. Nelson and its surrounding region receive more hours of sunshine than any other city in New Zealand.

Sunday, Day 12
Nelson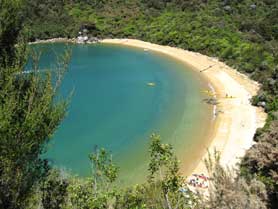 There are many sightseeings in Nelson. On our daily tour we visit the Abel Tasman Nationalpark.

Monday, Day 13
Nelson - Greymouth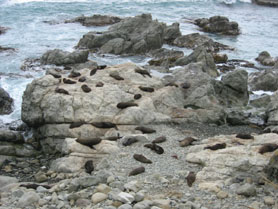 Our trip takes us south along the Buller Gorge Road to Westport, where we meet the Tasman Sea and there are beaches crowded with sea lions. We cross Cape Foulwind and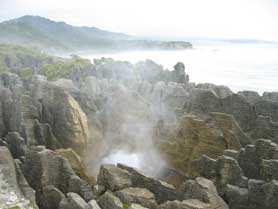 head south again to Pancake Rocks, where we get a close-up view of blowholes created by the sea. We spend the night in Greymouth.

Tuesday, Day 14
Greymouth - Franz Josef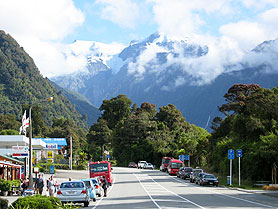 We continue south through the old gold mining town of Ross. The scenery is breathtaking, with the Tasman Sea on the right and mountains and lush green rain forest on the left. We spend the night below Franz Josef Glacier. If you wish, you can take a helicopter flight to the glacier or walk to its base or join a Quad Tour.

Wednesday, Day 15
Franz Josef - Wanaka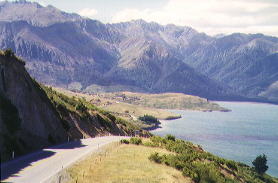 Passing Fox Glacier, another majestic glacier, we leave the coast and head east over Haast Pass to beautiful Lake Wanaka and the town of Wanaka itself.

Thursday, Day 16
Wanaka - Queenstown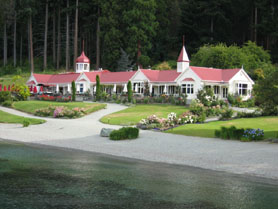 Today we are travelling on to Queenstown, justly famous as the adventure capital of the world. We will be given a short tour of a typical New Zealand working farm before the evening meal at the Colonel's Homestead Restaurant on the Walter Peak High Country Sheep Farm.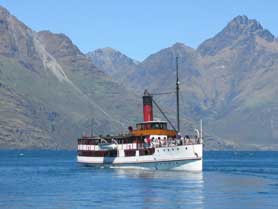 The farm is reached by a scenic cruise on Lake Wakatipu on the oldest steamship in New Zealand, the TSS Earnslaw.

Friday, Day 17
Queenstown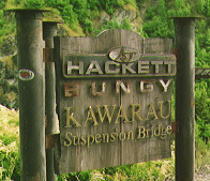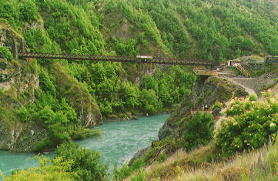 Today is free for you to do as you wish. Queenstown specialises in adventure activities and has much to offer, including bungee jumping, parasailing, jet boat rides, and skydiving. We will help you book any activities you wish to go on.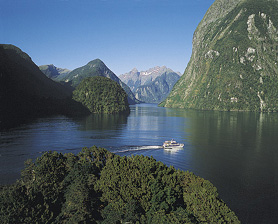 As an option you can join us for a spectacular natural wonder. You will have plenty of time to absorb the scenery and enjoy one of New Zealand's most famous regions. We set off for Milford Sound through the Homer Tunnel before boarding a boat to cruise the 10-mile long fiord. You will have the opportunity to see blue penguins, sea lions, and dolphins, not to mention the stunning combination of green rain forest, mountains, and blue, clear water flowing toward the ocean. We return to Queenstown for the night.

Saturday, Day 18
Queenstown - Lake Tekapo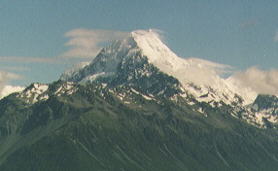 On Day 18 we travel to the foothills of Mount Cook, New Zealand's highest mountain at a height of 3754 m (13,316 feet). We stop for coffee and a spectacular view of the snow-covered mountain at the famous Hermitage Hotel, a truly special place with unmistakeable charm.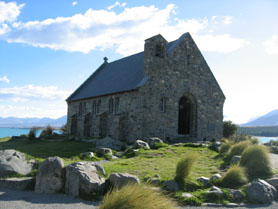 We end the day riding along back Lake Pukaki before visiting the Church of the Good Shepherd and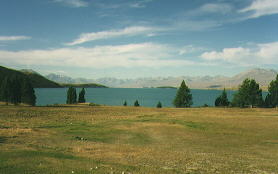 spending the night at our hotel at Lake Tekapo.

Sunday, Day 19
Lake Tekapo - Christchurch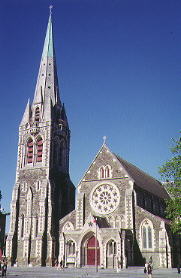 We travel across the South Island on the Inland Scenic Route to Christchurch. The remainder of the day is free for you to explore Christchurch.

Monday, Day 20
Christchurch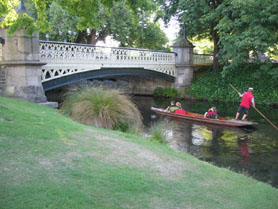 Today we are cycling on a beautiful part on the road to the popular peninsula Akaroa.

Tuesday, Day 21
Christchurch - Kaikoura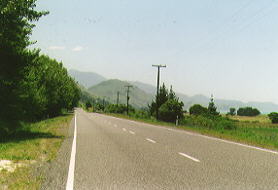 We ride the Pacific Alpine Triangle around the coast. The scenery is stunning, with the Pacific Ocean on the right and mountains on your left. We stop in Kaikoura, famous for whale watching and - depending on the weather conditions - let's hope to see them.

Wednesday, Day 22
Kaikoura - Blenheim
We pass through the Marlborough wine-growing area and arrive in Blenheim for a wine tour in one of their wineries.

Thursday, Day 23
Blenheim - Wellington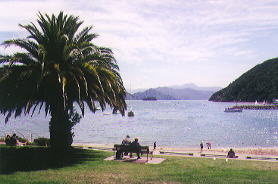 From Blenheim we reach Picton and take the ferry back to the North Island of New Zealand.

Friday, Day 24
Wellington - Turangi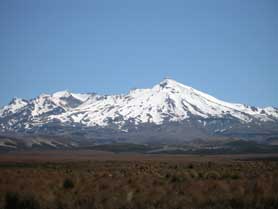 We continue our journey by Dessert Road to Turangi with a view of Mount Ruapehu, the highest peak on the North Island, which stands nearly 2797 m (9175 feet) tall.

Saturday, Day 25
Turangi - Waitomo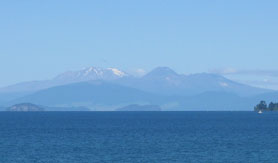 We continue our journey north, travelling alongside beautiful Lake Taupo and through spectacular scenery to Taupo, before heading to Waitomo with its famous Waitomo Caves.

Sunday, Day 26
Waitomo - Auckland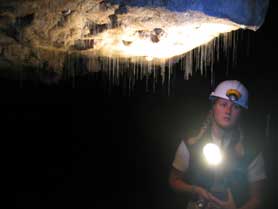 On our last day, we join an individual cave tour (far away from mass tourism) to see glowwormes in the dark, before heading to Auckland and in the evening meeting for one last time at our Farewell Dinner.

What's included - New Zealand Bicycle Tour Paradise - 26 Days:


Guided Bicycle Tour by Reuthers Tour Guide


Reuthers Bicycle with helmet


Travelling in comfortable Bus / Van / Mini Bus


Accomodation Middleclass Hotels in Double Room


Reuthers Secured Payment Certificate (Sicherungsschein)


Reuthers Tour Book with Itineraries and Tips


Reuthers Travel Lecture New Zealand


Reuthers Welcome Drink


Welcome- and Farewell-Dinner in Restaurants


Maori Culture and Hangi Dinner


Dinner Walter Peak High Country Sheep Farm


Steamship Passage TSS Earnslaw


Excursion Abel Tasman National Park


Ferry Wellington > Picton > Wellington


Transfers Airport-Hotel-Airport


Entrance Fees


Reuthers Energy Snacks and Drinks Package


Reuthers Polo Shirt


Reuthers Calling Card


Reuthers Memory Picture


Reuthers Tour Certificate


Reuthers Tours & More Discount Points
Pricing:
Rider Reuthers Bicycle = NZD 8918
Rider own Bicycle (Reuthers BYOB)= NZD 8658
Passenger Escort Vehicle = NZD 7618
Single Room extra charge = NZD 2001
Twin Room extra charge = NZD 325
Option1: Day Trip "Auckland Best Of" prior tour start
Option2: Helicopter Flight Franz Josef Glacier
Option3: Quad Tour in Franz Josef
Option4: Day Trip "Milford Sound" from Queenstown
All pricing payable in New Zealand Dollar.


3% Early Bird Discount* for bookings more than 6 months prior tour start


2% Senior Discount* age min 62 years prior tourstart


5% Group Discount* (from 6 Participants)
* discounts apply for bank payment only. Discounts max. 10%.
Dates:

please request.