Photo Tours
USA / America
Highway 1 Photography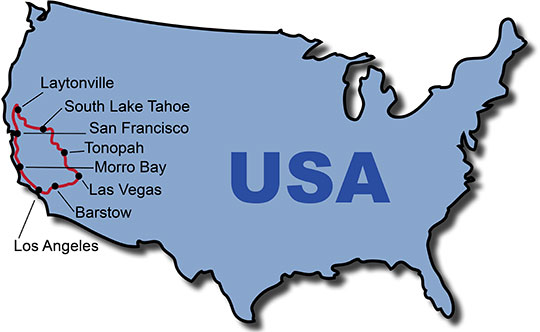 Friday, Day 1
Los Angeles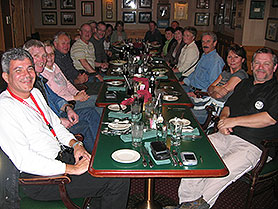 Welcome to Los Angeles. After a transfer to your hotel, meet your fellow photo tour travellers at a Welcome Drink and Dinner in the evening.

Saturday, Day 2
Los Angeles > Morro Bay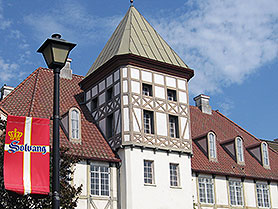 After breakfast we start our trip north along Highway 1. Passing the Santa Monica Pier and Sunset Boulevard we eventually reach Malibu. We then head into central valley farmlands of California and the coastal hills of the Los Padres National Forest. Travelling through beautiful countryside, we stop at Santa Barbara's Stearns Wharf for lunch before visiting Solvang, the 'Danish capital of America', where you will see windmills, horse drawn carriages, horse ranches, and wineries. We continue north through lush green hills, farmland, and cattle ranches before reaching Morro Bay.

Sunday, Day 3
Morro Bay > San Francisco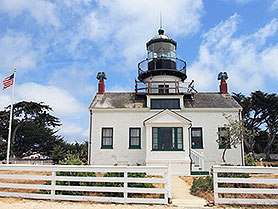 In the morning we continue with the Pacific Ocean on the left and the majestic Santa Lucia mountains on the right. This is the Big Sur, or 'El Sur Grande', a wonderfully scenic region that we cover during the day. We stop at Point Pinos Lighthouse, the entrance to Monterey Bay. Our journey continues through Castroville, where Norma Jean (Marilyn Monroe) was once crowned Artichoke Queen. Finally we reach Half Moon Bay and Pacifica, where we head north toward San Francisco and our hotel.

Monday, Day 4
Alcatraz and San Francisco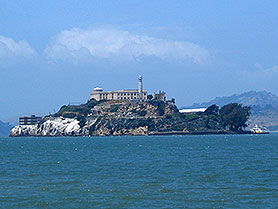 Day 4 is a rest day in San Francisco. You may wish to explore the city on foot or using some of the city's famous cable cars. Highlights include the Golden Gate Bridge, one of the world's longest suspension bridges, the Haight-Ashbury district, Chinatown, Fisherman's Wharf, Nob Hill, Union Street, and Lombard Street. You may also wish to visit Alcatraz, famous as an official US Army prison and then as a Federal prison.

Tuesday, Day 5
San Francisco > Laytonville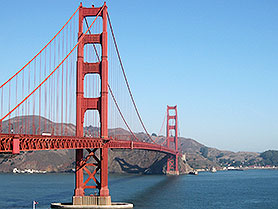 We start the day by passing the Golden Gate Bridge, heading into Marin County and the artist town of Sausalito. Our journey now takes us through stunning scenery as we pass Mount Tamalpais and miles of redwood groves. On a good day the snow-covered Sierra Nevada range can be seen. We hit the Pacific and the Wild Coast, passing through Muir Beach, a small hamlet where ocean-view homes oppose the bluffs of the Golden Gate National Recreation Area. Continuing north, we pass through Fort Ross and Gualala, stopping in Mendocino, a renowned haven for artists, writers, woodworkers, potters, etc. You will be able to buy gifts and souvenirs here if you wish. A highlight of the day is Leggett, with its 'Leggett Drive Through Tree'. We spend the night in Laytonville.

Wednesday, Day 6
Laytonville > South Lake Tahoe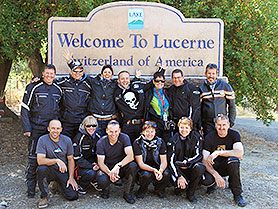 Day 6 continues our journey along Clear Lake, the largest natural lake in California, and the outskirts of the Mendocino National Forest. We travel through the forested hills, turning south. Passing Sacramento we travel to Placerville, a gold rush town, and then on to Camino in the heart of the El Dorado Wine Country. Our route now takes us through the Eldorado National Forest and into South Lake Tahoe and Stateline, where the California–Nevada State Line can be found. If you feel like trying your luck, Stateline has many world-class casinos.

Thursday, Day 7
South Lake Tahoe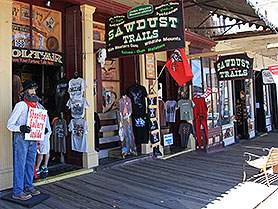 Our day begins with a journey through the Toiyabe National Forest toward Genoa, the oldest permanent settlement in Nevada and one of the most attractive villages in the American West. From Genoa, we continue north to Carson City and Virginia City. Virginia City, which was once a boom town, now stands as a monument to the riches that could be obtained during the gold rush.

Friday, Day 8
South Lake Tahoe > Tonopah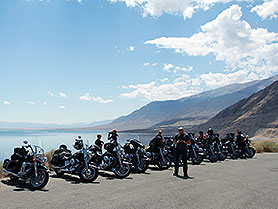 Day 8 starts as we head east and then south to Yerington, situated along the banks of the Walker River and surrounded by picturesque mountains full of ghost towns and old gold mining camps. We continue to Hawthorne, with the landscape slowly changing into a desert environment, before reaching Tonopah, an old mining boom town. You will be able to get a real feel for Nevada's colourful history here.

Saturday, Day 9
Tonopah > Las Vegas
Right in the morning we continue south to Goldfield with the best old buildings in Nevada and then head south to Beatty, a picturesque desert town in the Amargosa River Valley. We continue through Amargosa Valley, Indian Springs, and into gambling capital Las Vegas.

Sunday, Day 10
Las Vegas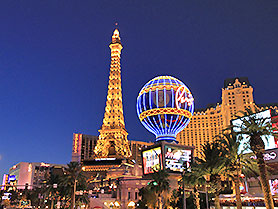 This is a rest day and gives you the opportunity to spend time in Las Vegas sightseeing, taking in some of the many shows, or visiting the casinos.

Monday, Day 11
Las Vegas > Barstow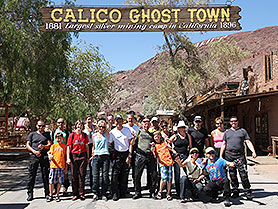 We leave Las Vegas, heading for Baker, where we have lunch at the Mad Greek Restaurant. From Baker we continue south to Barstow and detour to the old silver mining town of Calico. Back on the main road, we reach Barstow, once a small mining and railroad town in California's Mojave Desert. Barstow's Main Street is part of the original Route 66. This is where we stay for the night.

Tuesday, Day 12
Barstow > Los Angeles
We continue on to Victorville, where we descend into the greater Los Angeles basin and to our hotel. In the evening we gather for our Farewell Dinner and to reminisce about our photo tour adventure.

USA Highway 1 Photo Tour - what's included:
* Guided Adventure Tour by Reuthers Photo Tour Guide
* Travelling in comfortable Van / Mini Bus
* 12x Accommodation Middleclass Hotels in shared Double Room (1 common bed)
* Standard WiFi at Hotels
* Reuthers Secured Payment Certificate (Sicherungsschein)
* Reuthers Tour Book with Itineraries and Tips
* Reuthers Travel Lecture USA / Highway 1
* Reuthers Welcome Drink
* Welcome- and Farewell-Dinner in Restaurants
* Transfers Airport-Hotel-Airport
* Entrance Fees
* Reuthers Rewards
Pricing:
Per Person = USD 2445
Single Room extra charge = USD 1475
Twin Room (2 separate beds) extra charge = USD 165
All pricing payable in US Dollar.
3% "Early Bird Discount" (booking more than 12 months prior tour start)
2% "Golden Ager Discount" (age min 60 years prior tour start)
10% "Group Discount" (from 8 participants, all registrations within one week, common Payment of Balance by Bank Transfer)
Please note: Total Discount max. 10% for Deposit by Credit Card and Payment of Balance by Bank Transfer. No Discount for Deposit and Payment of Balance by Credit Card or by PayPal.
Dates:
19.May.-30.May.2017
2.Jun.-13.Jun.2017
23.Jun.-4.Jul.2017
28.Jul.-8.Aug.2017
18.Aug.-29.Aug.2017
15.Sep.-26.Sep.2017
18.May.-29.May.2018
1.Jun.-12.Jun.2018
22.Jun.-3.Jul.2018
27.Jul.-7.Aug.2018
17.Aug.-28.Aug.2018
14.Sep.-25.Sep.2018
Of course we also realise individual dates for VIPs, private and group tours.