Motorcycle Rentals Europe
USACanadaNew ZealandAustraliaSouth AfricaEuropeModels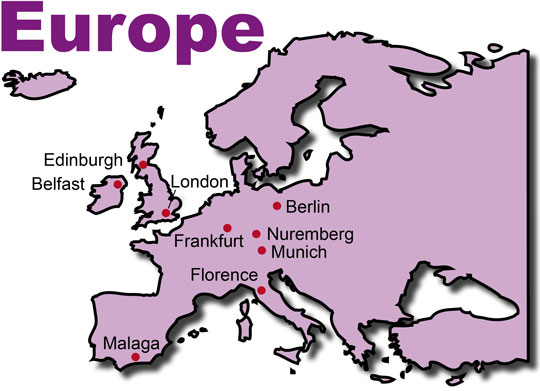 Beside Guided Tours, Semi Guided Tours and the Reuthers Navi Guided ® Motorcycle Tours, we are also providing Motorcycle Rentals for touring in Europe.
There is never just a Motorbike for hire with lots of hidden costs you do not know about when making a booking. Instead, Reuthers is always including many useful services right from the beginning and all our satisfied clients say Best Value!
Benefit from a wide selection of > Motorcycle Rentals Models as well as the worldwide largest Harley-Davidson Authorized Rentals fleet with well maintained late models and Premium Service.
We are more than happy to assist you with your individual Motorcycle Rental for an unforgetable motorcycle vacation / holiday experience.

Motorcycle Rentals Europe:
Motorcycle Rental Stations in Austria: Vienna, Salzburg, Innsbruck, Klagenfurt; Belgium: Dendermonde; France: Paris, Strasbourg, Montpellier, Sausheim; Germany: Berlin, Bielefeld, Koblenz, Cologne, Munich, Ludwigshafen, Rostock, Königs Wusterhausen, Karlsruhe, Aachen, Ulm, Saarbrücken, Hamburg, Konz, Bonn, Kassel; Italy: Firenze, Rome, Padova, Bolzano, Acireale (CT), San Paolo D'Argon, Torino; Netherlands: Amersfoort, Veghel, Zoetermeer; Norway: Oslo, Ballangen; Spain: Marbella, Sevilla, Malaga, Madrid, Alicante Calpe, Santa Faz Alicante; Switzerland: Zurich, Ostermundigen, Dietikon, Cortaillod; United Kingdom: London / England, Somerset / England, Suffolk / England, Berkshire / England, Southampton / England, Ballymena / Northern Ireland, Canterbury / Kent, Uppingham / Rutland, Glasgow / Scotland

> Motorcycle Rentals USA
> Motorcycle Rentals Canada
> Motorcycle Rentals New Zealand
> Motorcycle Rentals Australia
> Motorcycle Rentals South Africa


> Please ask for your individual Quote!

You'd like to book a Guided Motorcycle Tour? You prefer having motorcycle, hotels etc. already booked in advance for maximum individual riding fun? Just have a look on our Guided Tours, Semi Guided Tours and the exclusive
Reuthers
Navi Guided
®
Tours at
>
Reuthers Motorcycle Tours
.