Motorcycle Rentals Europe
USACanadaNew ZealandAustraliaSouth AfricaEurope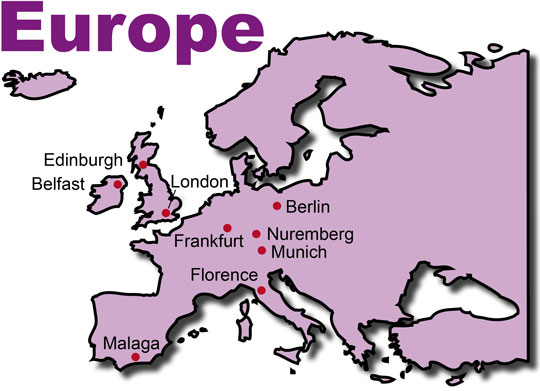 Beside Guided Tours, Semi Guided Tours and the Reuthers Navi Guided ® Motorcycle Tours, we are also providing Motorcycle Rentals in Europe.
There is never just a Motorcycle Rental with lots of hidden costs you do not know about when making a booking. Instead, Reuthers is always including many useful services right from the beginning and all our satisfied clients say Best Value!
Benefit from the worldwide largest Authorized Harley-Davidson Motorcycle Rental Fleet with well maintained late models and Premium Service.
We are more than happy to assist you with your individual Motorcycle and Trike Rental for an unforgetable Motorcycle Vacation / Holiday experience.

Please ask for your individual Quote!

Please choose from the following models:
HARLEY-DAVIDSON
Ultra Classic®

HARLEY-DAVIDSON
Road King Classic®

HARLEY-DAVDSON
Heritage Softail Classic®
HARLEY-DAVIDSON
Fat Boy®

HARLEY-DAVIDSON
VRod®

HARLEY-DAVIDSON
Sportster 1200 Custom®
| | | |
| --- | --- | --- |
| BMW R 1200 GS | BMW K 1600 GTL | BMW F 800 R |
| | | |
| --- | --- | --- |
| BMW F 650 GS | HONDA VT 750 Shadow | HONDA VFR 800 |
| | | |
| --- | --- | --- |
| HONDA Gold Wing | TRIUMPH Bonneville | TRIUMPH Sprint |

Harley-Davidson Motorcycle / Trike Models:
Sportster®: 1200 Custom®, 883 Super Low®;
Big Twins: Dyna Super Glide®, Dyna Street Bob®, Dyna Super Glide Custom®, Dyna Fat Bob®, Dyna Low Rider®, Dyna Switchback®, Heritage Softail Classic®, Fat Boy®, Softail Deluxe®, Softail Cross Bones®, Softail Rocker®, Softail Rocker C®, Night Train®, Softail Custom®, Road King®, Road King Classic®, Electra Glide Standard®, Electra Glide Classic®, Ultra Classic Electra Glide®, Street Glide®, Road Glide®, V-Rod®, Night Rod Special®, V-Rod Muscle®
Motorcycle Trike: Tri Glide Ultra Classic®
BMW Motorcycles:
BMW R 1600 GTL; BMW R 1200 GS; BMW F 800 R; BMW F 650 GS
Honda Motorcycles:
Honda Gold Wing; Honda VFR 800; Honda Shadow VT 750
Triumph Motorcycles:
Triumph Bonneville; Triumph Sprint

Motorcycle Rentals Europe:
Motorcycle Rental Stations in Austria: Vienna, Salzburg, Innsbruck, Klagenfurt; Belgium: Dendermonde; France: Paris, Strasbourg, Montpellier, Sausheim; Germany: Berlin, Bielefeld, Koblenz, Cologne, Munich, Ludwigshafen, Rostock, Königs Wusterhausen, Karlsruhe, Aachen, Ulm, Saarbrücken, Hamburg, Konz, Bonn, Kassel; Italy: Firenze, Rome, Padova, Bolzano, Acireale (CT), San Paolo D'Argon, Torino; Netherlands: Amersfoort, Veghel, Zoetermeer; Norway: Oslo, Ballangen; Spain: Marbella, Sevilla, Malaga, Madrid, Alicante Calpe, Santa Faz Alicante; Switzerland: Zurich, Ostermundigen, Dietikon, Cortaillod; United Kingdom: London / England, Somerset / England, Suffolk / England, Berkshire / England, Southampton / England, Ballymena / Northern Ireland, Canterbury / Kent, Uppingham / Rutland, Glasgow / Scotland

> Motorcycle Rentals USA
> Motorcycle Rentals Canada
> Motorcycle Rentals New Zealand
> Motorcycle Rentals Australia
> Motorcycle Rentals South Africa


Please ask for your individual Quote!

You'd like to book a Guided Motorcycle Tour? You prefer having motorcycle, hotels etc. already booked in advance for maximum individual riding fun? Just have a look on our Guided Tours, Semi Guided Tours and the exclusive
Reuthers
Navi Guided
®
Tours at
>
Reuthers Motorcycle Tours
.